* * * * * * * * * * * * * * * * * * * * * * * * * * * * * * * * * * * * * * * * * * * * * * * * * * * * * * * * * * * * * * * * * * * * * * * * * * * * * * * * * 
Hi everyone! Hope you all had a good weekend!
Now I've been back in my studio, painting, shooting artworks and so on. The normal routine. This kind of gets me back on track and it's quite comforting. So this here is my working space.
I basically work in my apartment, and don't have a separate studio I go to. I'm definitely the kind of person that prefers to live and work in the same place. One room in my apartment is used as a studio which I share with my partner, Ken. And I also have another working space in the corner of my bedroom. Sometimes we need our individual space to work on our pieces so at the moment, it works out like this. I use the studio area mainly for creative thinking and smaller experiments, and I use the corner of my bedroom as the actual working space (as in painting, drawing etc..). It's kind of nice to have different spots in the house to work because it gives you a fresh view of things.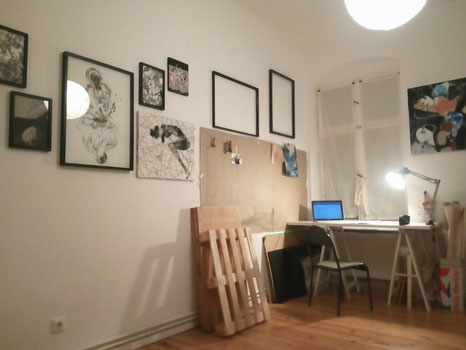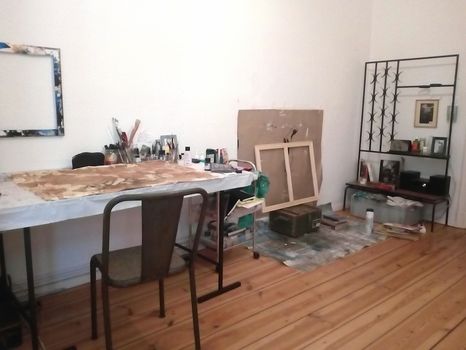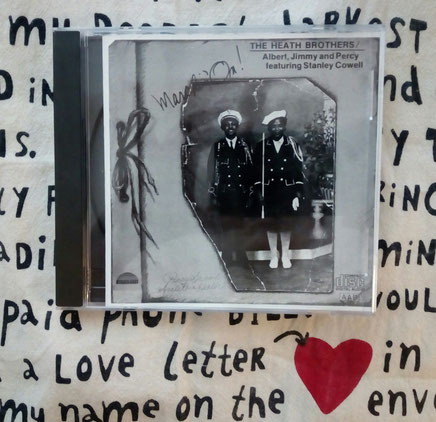 When I'm in there, I usually put some music on and start working. I have this tendency of listening to the same album until the piece I'm working on is done. Yes, I put it on constant "repeat all" mode. So recently, I've been listening to this for a while now.  It's a jazz piece from 1976, and is the debut album of "Heath Brothers". I just love this whole album since I first listened to it. It's got an amazing ambiance to it and it feels like a story being told. I find it really inspiring!
I feel like each painting has a flow and when I start with one type of flow, I like to keep at it until it's done. For me, it feels uncomfortable when I suddenly change the music in middle of a working piece. It just really doesn't feel right. But, to be honest, I can totally understand how this habit can drive some people crazy. And it drove Ken up the wall at one point! My pieces generally take a while to finish off and sometimes it can take up to 6months.
THAT MEANS... that the same music keeps going for that long.
Ok, I agree that can be a nightmare, and Ken was going crazy when I had 2pac on repeat for couple months... So, this is one reason why I decided it would be better for us to have separate working spaces along with our shared space :P We all have our little habits, don't we all?
xA