* * * * * * * * * * * * * * * * * * * * * * * * * * * * * * * * * * * * * * * * * * * * * * * * * * * * * * * * * * * * * * * * * * * * * * * * * * * * * * * * * 
Hi Everyone!! Hope all is good :)
So, last week, I got together with my friends to check out the "street food thursday" at Markthalle Neun in Kreuzberg. Every Thursday evening, Markthalle Neun gets packed with food vendors from all over Berlin. I do have passion for food so I was quite excited! You can find wine, cheese, seafood, oriental food, African food, Latin American food etc... you name it. They have such a wide selection for you to choose from that you'll end up roaming around in circles for a while. The good thing about this market is that it's indoors, YES it's got heating!
Perfect for a winter evening in Berlin ;)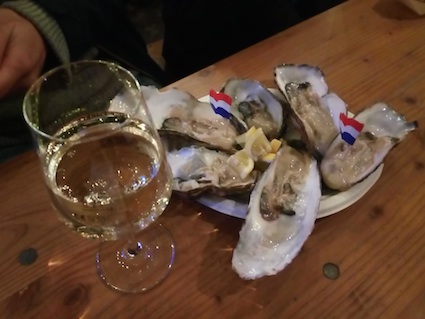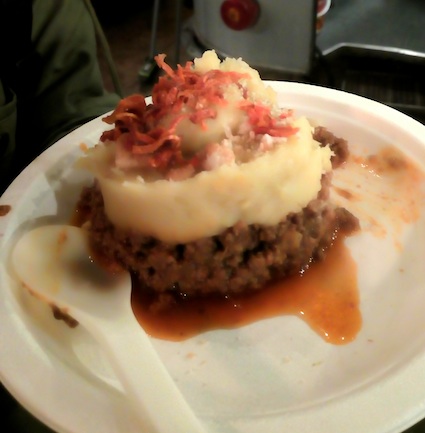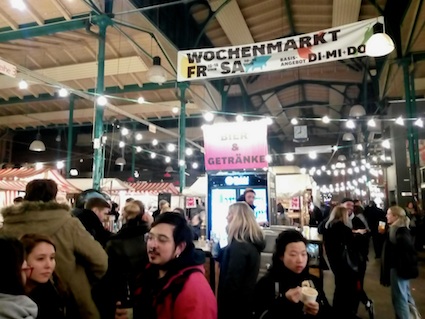 So, I started with some white wine and some oysters. I hadn't had oysters for the longest time and I did miss seafood. But these were so rich and creamy! I got a very good start of the evening with this combo.
Ken was also there with me and he was staring at the Indian shepherd's pie stall. He got himself a plate. It sounded nice, and I took a bite off of his plate and it was very hearty:)
I got myself with some tacos, pulled pork one and spicy chicken and chipotle. The soft tortilla was warm and the filling was really tasty. The chopped herbs gave it a nice fresh kick!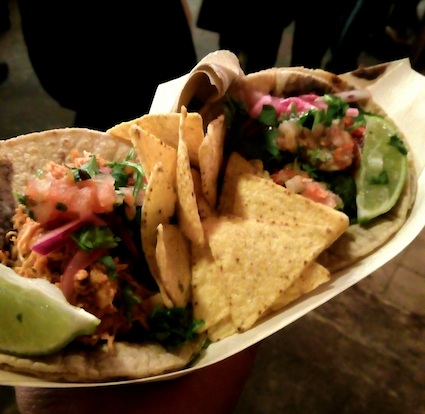 I was really enjoying this! We were all roaming around the place and taking a seat once in a while to eat the food. Berlin's food scene seemed to be in hype for the last couple of years and you can find all sorts of cuisines in Berlin. From casual street food to new contemporary dishes. But I feel that Berlin crowd especially likes casual food and street food. There's still so much food I want to try in Berlin! Here, they have many small independent restaurants with its own character and I think this adds uniqueness to the city itself.
As I was heading out, a little stand with Italian cream puffs caught my eye...
I have to get one....
So I did!
The pastry was still warm and it had vanilla and lemon cream inside. The pastry was so buttery and flaky and the filling was so rich and creamy! Sorry I dug in the moment it landed on my hand so the picture of it is half bit. It was soooo GOOOOD!!
When you are in Berlin, give the "street food Thursday" a go. I'm sure you'll find something you like!
xA